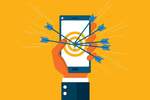 If nothing else, Apple's most recent emergency security update should be considered proof of an increasingly tense security environment.
Enterprises must understand that while Apple maintains a pretty solid ecosystem — certainly at present the most secure, even according to Cisco — that doesn't mean it's entirely safe, and every Apple customer needs to get wise to the growing proliferation of threats.
With more and more business users turning to the company's solutions, it's important to get ahead of the threat.
Read more