Bad .Men at .Work. Please Don't .Click
Credit to Author: BrianKrebs| Date: Mon, 11 Jun 2018 14:42:39 +0000
Web site names ending in new top-level domains (TLDs) like .men, .work and .click are some of the riskiest and spammy-est on the Internet, according to experts who track such concentrations of badness online. Not that there still aren't a whole mess of nasty .com, .net and .biz domains out there, but relative to their size (i.e. overall number of domains) these newer TLDs are far dicier to visit than most online destinations.
There are many sources for measuring domain reputation online, but one of the newest is The 10 Most Abused Top Level Domains list, run by Spamhaus.org. Currently at the #1 spot on the list (the worst) is .men: Spamhaus says of the 65,570 domains it has seen registered in the .men TLD, more than half (55 percent) were "bad."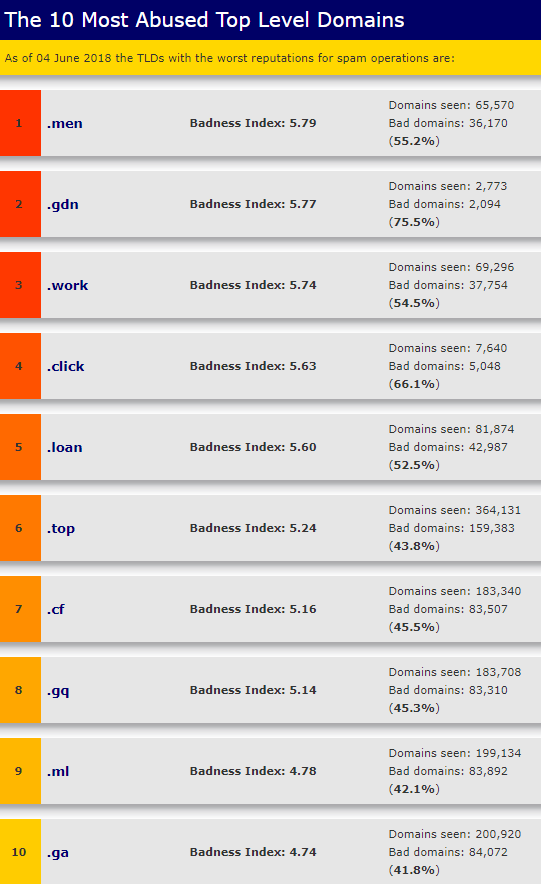 According to Spamhaus, a TLD may be "bad" because it is tied to spam or malware dissemination (or both). More specifically, the "badness" of a given TLD may be assigned in two ways:
"The ratio of bad to good domains may be higher than average, indicating that the registry could do a better job of enforcing policies and shunning abusers. Or, some TLDs with a high fraction of bad domains may be quite small, and their total number of bad domains could be relatively limited with respect to other, bigger TLDs. Their total "badness" to the Internet is limited by their small total size."
More than 1,500 TLDs exist today, but hundreds of them were introduced in just the past few years. The nonprofit organization that runs the domain name space — the Internet Corporation for Assigned Names and Numbers (ICANN) — enabled the new TLDs in response to requests from advertisers and domain speculators — even though security experts warned that an onslaught of new, far cheaper TLDs would be a boon mainly to spammers and scammers.
And what a boon it has been. The newer TLDs are popular among spammers and scammers alike because domains in many of these TLDs can be had for pennies apiece. But not all of the TLDs on Spamhaus' list are prized for being cheaper than generic TLDs (like .com, .net, etc.). The cheapest domains at half of Spamhaus' top ten "baddest" TLDs go for prices between $6 and $14.50 per domain.
Still, domains in the remaining five Top Bad TLDs can be had for between 48 cents and a dollar each.
Security firm Symantec in March 2018 published its own Top 20 list of Shady TLDs:
Spamhaus says TLD registries that allow registrars to sell high volumes of domains to professional spammers and malware operators in essence aid and abet the plague of abuse on the Internet.
"Some registrars and resellers knowingly sell high volumes of domains to these actors for profit, and many registries do not do enough to stop or limit this endless supply of domains," Spamhaus' World's Most Abused TLDs page explains.
Namecheap, a Phoenix, Ariz. based domain name registrar that in Oct. 2017 was the fourth-largest registrar, currently offers by a wide margin the lowest registration prices for three out of 10 of Spamhaus' baddest TLDs, selling most for less than 50 cents each.
Namecheap also is by far the cheapest registrar for 11 of Symantec's Top 20 Shady New TLDs: Namecheap is easily the least expensive registrar to secure a domain in 11 of the Top 20, including .date, .trade, .review, .party, .loan, .kim, .bid, .win, .racing, .download and .stream.
I should preface the following analysis by saying the prices that domain registrars charge for various TLD name registrations vary frequently, as do the rankings in these Top Bad TLD lists. But I was curious if there was any useful data about new TLD abuse at tld-list.com — a comparison shopping page for domain registrars.
What I found is that although domains in almost all of the above-mentioned TLDs are sold by dozens of registrars, most of these registrars have priced themselves out of the market for the TLDs that are currently so-favored by spammers and scammers.
Not so with Namecheap. True to its name, when it is the cheapest Namecheap consistently offers the lowest price by approximately 98 percent off the average price that other registrars selling the same TLD charge per domain. The company appears to have specifically targeted these TLDs with price promotions that far undercut competitors.
Here's a look at the per-domain prices charged by the registrars for the TLDs named in Spamhaus's top 10:
This a price comparison for Symantec's Top 20 list:
I asked Namecheap's CEO why the company's name comes up so frequently in these lists, and if there was any strategy behind cornering the market for so many of the "bad" and "shady" TLDs.
"Our business model, as our name implies is to offer choice and value to everyone in the same way companies like Amazon or Walmart do," Namecheap CEO Richard Kirkendall told KrebsOnSecurity. "Saying that because we offer low prices to all customers we somehow condone nefarious activity is an irresponsible assumption on your part. Our commitment to our millions of customers across the world is to continue to bring them the best value and choice whenever and wherever we can."
Kirkendall said expecting retail registrars that compete on pricing to stop doing that is not realistic and would be the last place he would go to for change.
"On the other hand, if you do manage to secure higher pricing you will also in effect tax everyone for the bad actions of a few," Kirkendall said. "Is this really the way to solve the problem? While a few dollars may not matter to you, there are plenty of less fortunate people out there where it does matter. They say the internet is the great equalizer, by making things cost more simply for the sake of creating barriers truly and indiscriminately creates barriers for everyone, not just for those you target."
Incidentally, should you ever wish to block all domains from any given TLD, there are a number of tools available to do that. One of the easiest to use is Google's OpenDNS, which includes up to 30 filters for managing traffic, content and Web sites on your computer and home network — including the ability to block entire TLDs if that's something you want to do.
I'm often asked if blocking sites from loading when they're served from specific TLDs or countries (like .ru) would be an effective way to block malware and phishing attacks. It's important to note here that it's not practical to assume you can block all traffic from given countries (that somehow blacklisting .ru is going to block all traffic from Russia). It also seems likely that the .com TLD space and US-based ISPs are bigger sources of the problem overall.
But that's not to say blocking entire TLDs a horrible idea for individual users and home network owners. I'd wager there are whole a host of TLDs (including all of the above "bad" and "shady" TLDs) that most users could block across the board without forgoing anything they might otherwise want to have seen or visited. I mean seriously: When was the last time you intentionally visited a site registered in the TLD for Gabon (.ga)?
And while many people might never click on a .party or .men domain in a malicious or spammy email, these domains are often loaded only after the user clicks on a malicious or booby-trapped link that may not look so phishy — such as a .com or .org link.